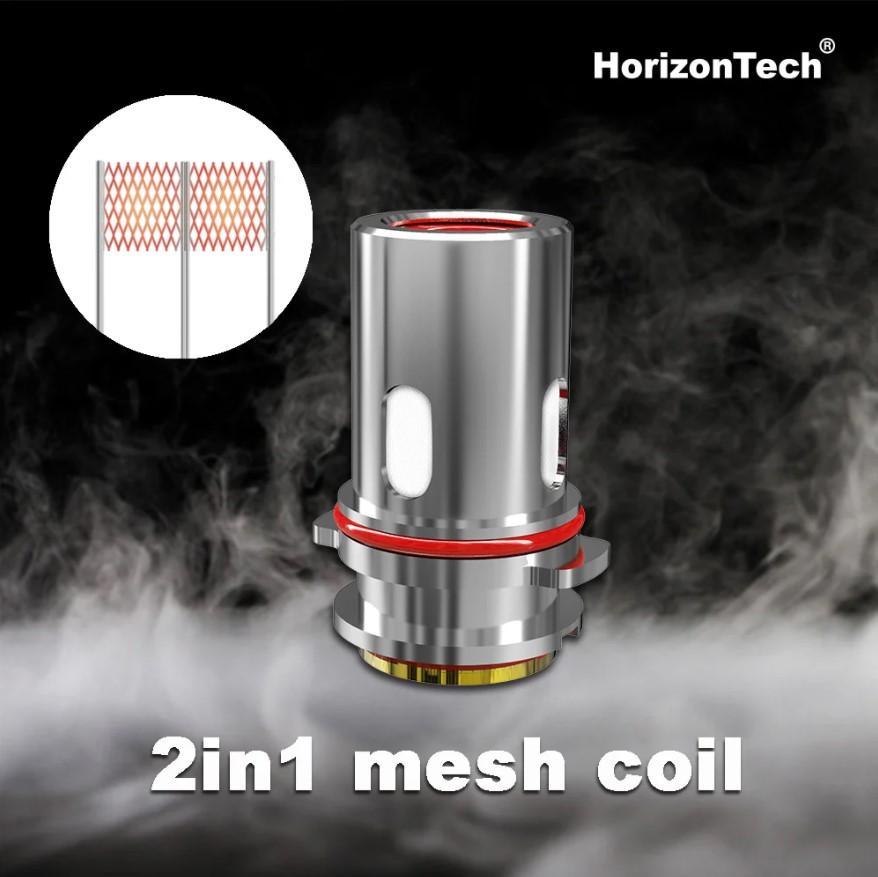 For many vapers, the vaping comfort lies in the sub-ohm vaping and like all other concepts of vaping, to vape on massive clouds that offer loose flow, you need to choose the right kind of vaping tank. Horizon Sakerz Tank is one such vape tank that supports impeccable sub-ohm vaping. It is the key to an ultimate nic hit for the heavy vaping maniacs and here is all you need to know…
The Ultimate Features of Horizon Sakerz Tank
This vape tank goes with the mods like Aeges or any other mod that's your favorite and has a power output of 70 W or higher. Works on 510 threading connection. It features an anti-leak adjustable top airflow design. It features a thread less coil head design that quickly replaces it with the push and pulls method so that it doesn't lose any e-liquid. With every package, you receive two coils. One is pre-installed by a 2-in-1 mesh coil of 0.17 Ω and the other one is a mesh coil of 0.16 Ω.
Vape juice capacity is 5ml in bubble glass and 3.5ml in straight glass and the diameter of the tank is 29.5mm configuration. Durability is guaranteed with its design built on stainless steel and pyrex glass, giving it a strong chassis. Following are the colors in which it is available, you can pick the one that best comprehends your vape style and shade-
Carbon Black
Blue
SS
Purple Red
Gun Metal
Rainbow
A set of replacement O rings also comes with every packing. Along with this, you will also receive a user manual and a warranty card.
Now, let's take you through the way vaping feels with this tank…
Benefits of Vaping with a Horizon Sakerz Tank
#1. You get to hit your throats with big vapor clouds. If you can satisfy your vaping needs only by chucking huge and having thick clouds of vapors then this tank is capable of giving you that. This cannot be achieved without sub-ohm vaping which means that you need to have lower resistance on high power and that's what you are getting in Horizon Sakerz.
#2. Smoother Vape - This can help you achieve smoother hits but only if you select a vape juice with a lower strength of nicotine and higher concentration of VG.
#3. Better Flavor - Naturally, since Horizon Sakerz Tank Replacement Coils supports sub-ohm vaping, you will hit the flavor clear and strong.
#4. Warm Vapors - Vaping on this tank will give you the actual feeling of smoking by providing you with warmer vapors. This is because, in this tank, the e-juice heats up faster and thus becomes hot instantly, making it warm.
Is it safe to vape with Horizon Sakerz Tank?
Until you are not making it an addiction, it is safe to vape with this tank. Since the delivery and hits are stronger in these tanks, it is better that you regulate the e-juice and its content by minimizing the nicotine concentration, for example.
Does Horizon Sakerz Tank Support MTL vape?
The vapors produced by this tank are massive and it won't be comfortable to vape mouth to lung with that much vapor in one inhale. So, this one best suits those who love to puff directly to their lungs. In simple words, the Horizon Sakerz tank replacement coil doesn't support MTL vaping but DL.
Select Your Shade Now!
If you are impressed by the features of the Horizon Sakerz tank then it's time to grab it quickly from ravenroute.com where all shades are available. Steal the best color for yourself before it goes out of stock!